Services
Our services reflect the needs of our clients. We jump into action when:
An organization needs to develop a new vision and strategy;
A sales organization needs a significant lift to sales;
A company is going or planning to go through a major change;
A leader wants to take his/her team to the next performance level; or,
An executive is frustrated or needs help coaching a specific team or person.
For more information, go to Services.
Workshops
Workshops complement our services and are designed to transfer knowledge to your organization. Many include human capital analytics so that your leaders and managers are able to apply valid and reliable tools to improve and align your talent resources:
Leadership Development
Global Team Management
Change Management
Customer Focused Selling
Sales Coaching for Growth
Meeting Smart™
For more information, go to Workshops.
New Book Release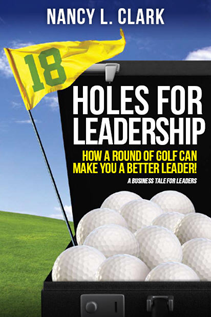 Check out Nancy's new book, 18 Holes for Leadership—How a round of golf can make you a better leader.
Available at Amazon or a bookstore near you.
If you want to contact us about a speaking engagement or quantity book purchase, call +1 925.831.9100 or email info@leaders-inc.com. For more details, go to Book.